Countdown Timer Clock for
Facebook.
Publish auto-updating countdown timers directly on your Facebook page.
Boost anticipation, drive action, and transform your social media marketing.
* Works with Facebook Business page only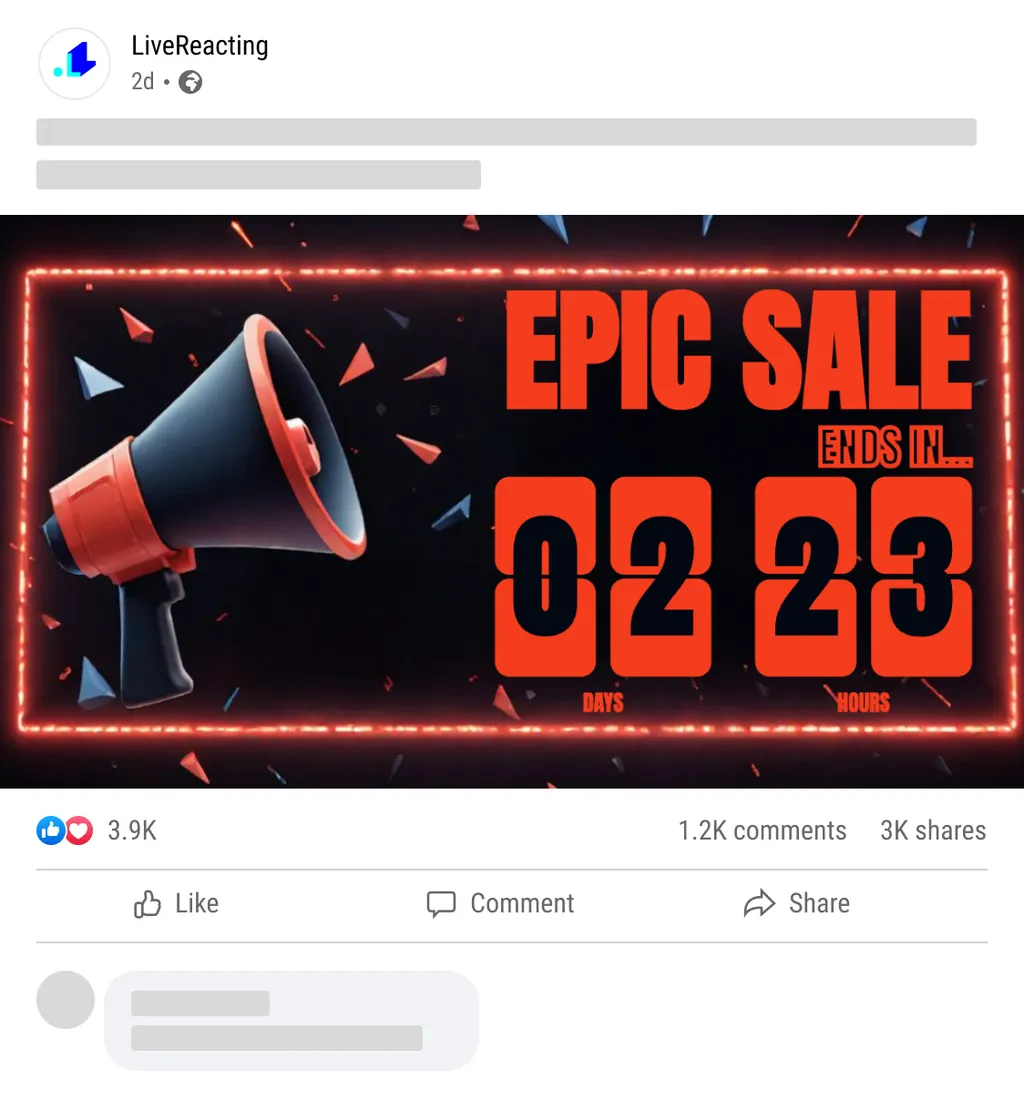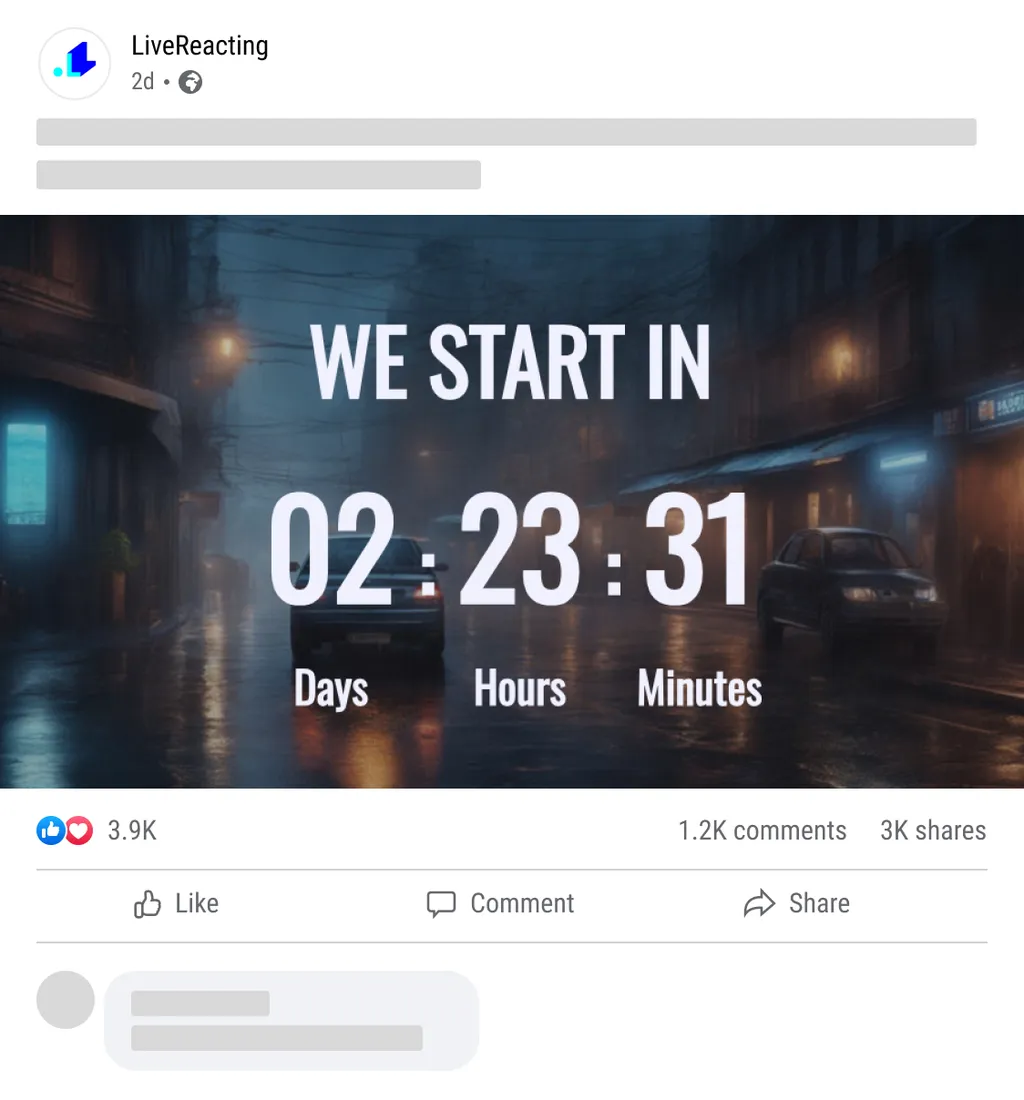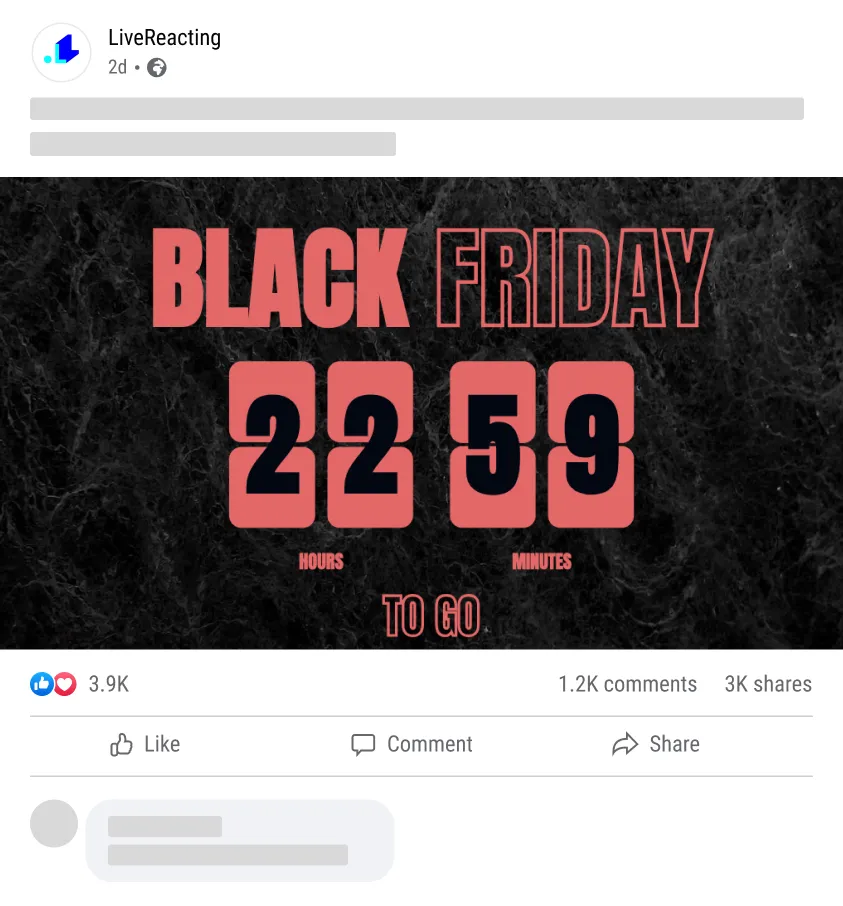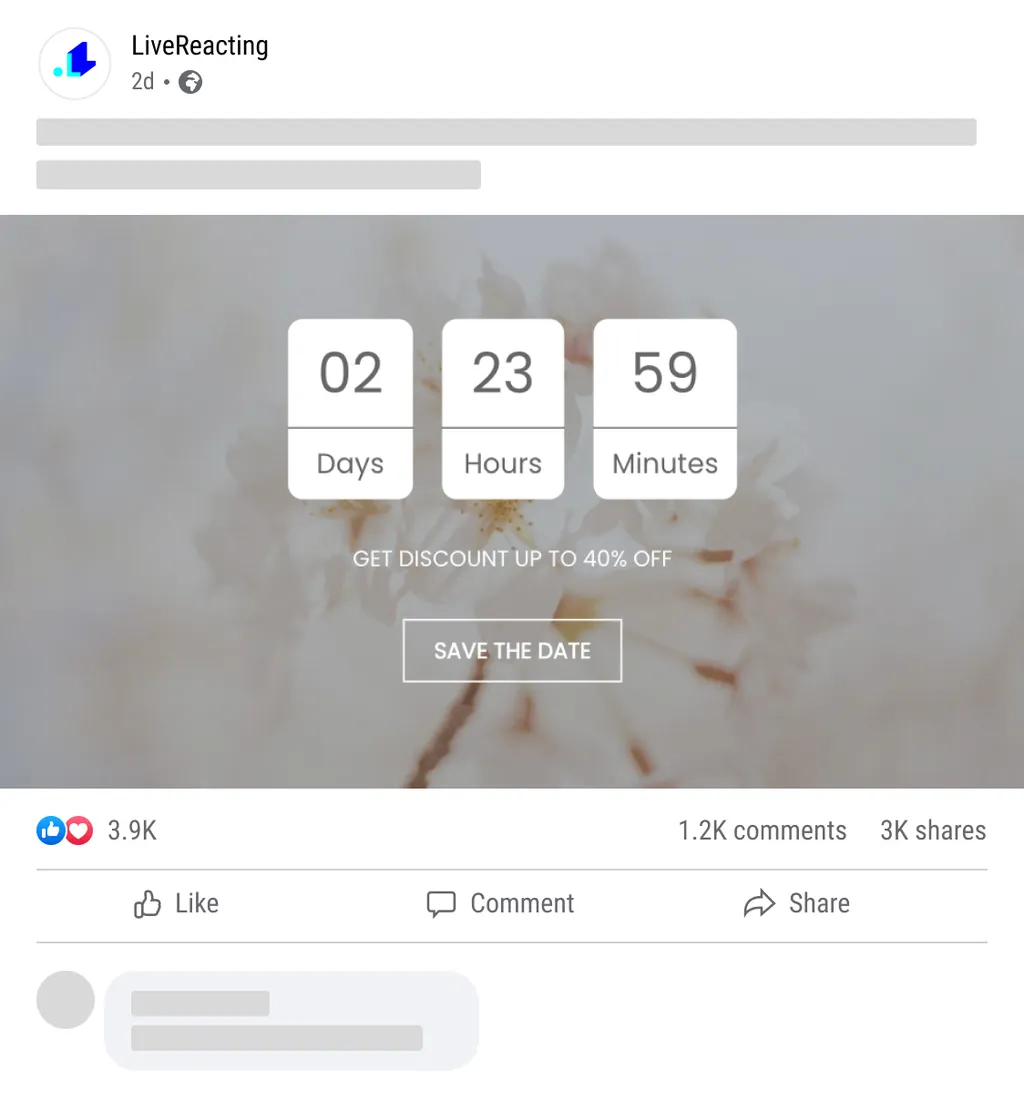 What is this?
Fully automated countdown 💪
It is a tool that lets you create a countdown, publish it as an image post on your Facebook page, and then automatically updates it every few minutes.
This ensures that your audience on Facebook always sees an up-to-date countdown.
All with a simple, fully automated process.
Who is it for?
Social media managers 🤝
Perfect for anyone who wants to create anticipation for upcoming events or deals on their Facebook page.
Whether you're a business promoting Black Friday deals, a brand launching a new product, or a group organizing an event, our application makes it easy to keep your audience engaged and excited.
Pre-Built Customizable Templates
Choose from a variety of pre-built templates designed for different types of events. Adjust and customize them to fit your brand, creating a unique and engaging countdown.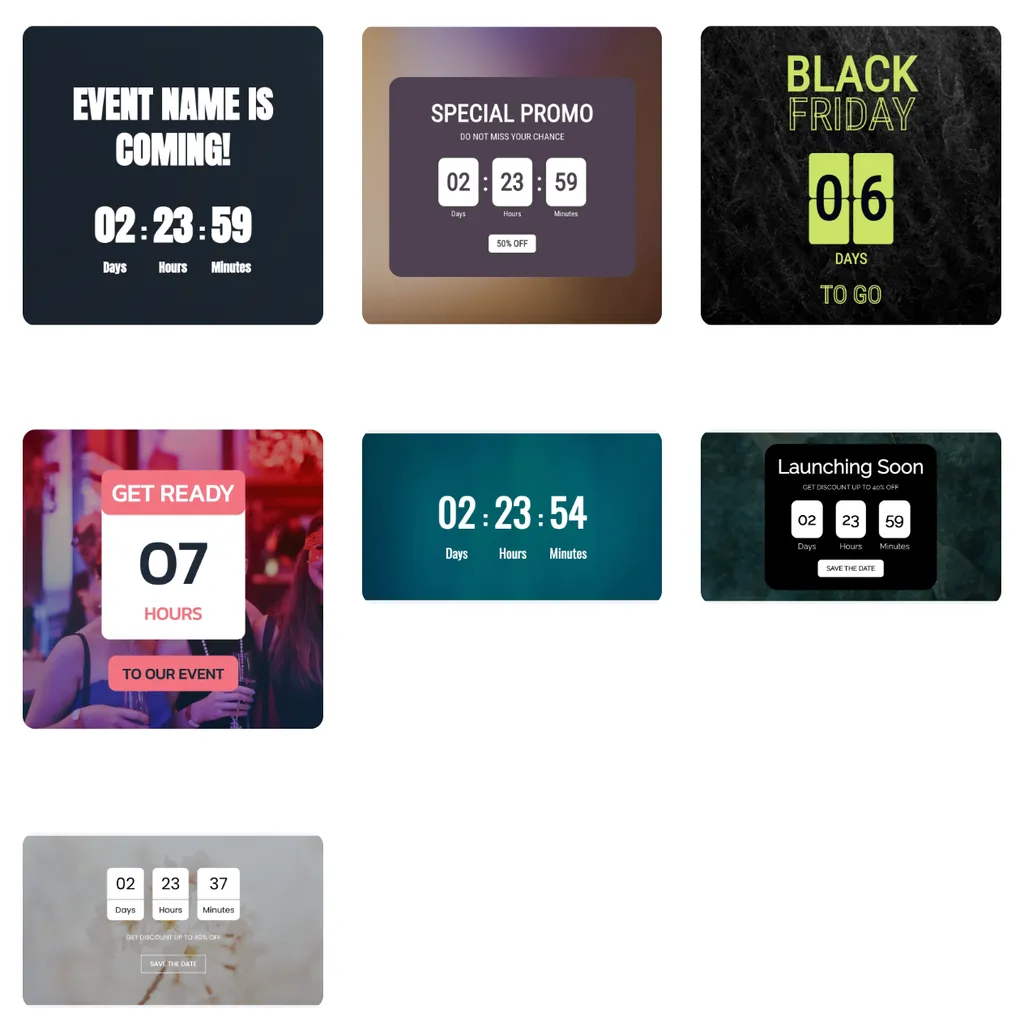 Easy-to-Use Editor
Design your countdown using our user-friendly editor. Customize it to match your brand identity and make your countdown stand out.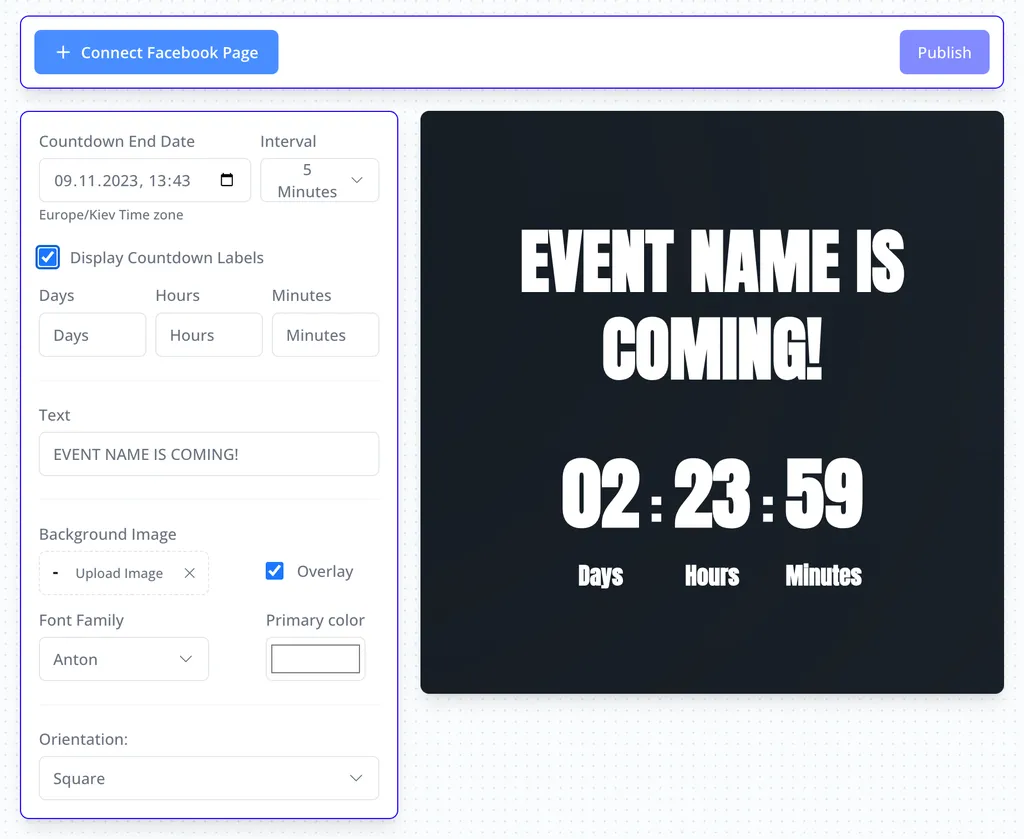 Fully Automated Solution
Once you create and publish your countdown, our application takes care of the rest. The countdown image updates every few minutes, all on its own, and all processes run on our servers. It's a set-it-and-forget-it solution that saves you time and effort.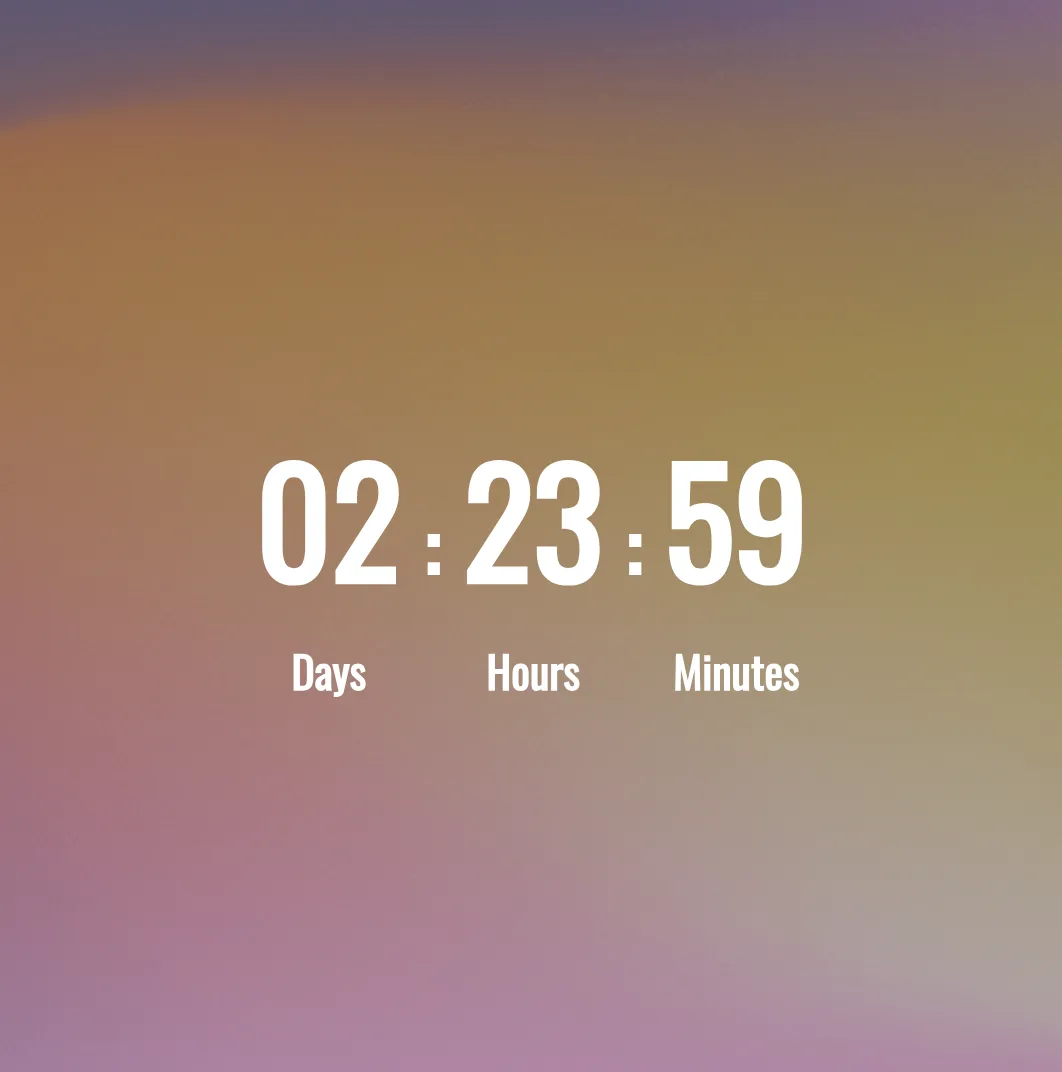 Direct Publishing to Facebook Pages
Publish your countdown directly on your Facebook business page. You can also share your countdown posts to your Facebook group or personal profile.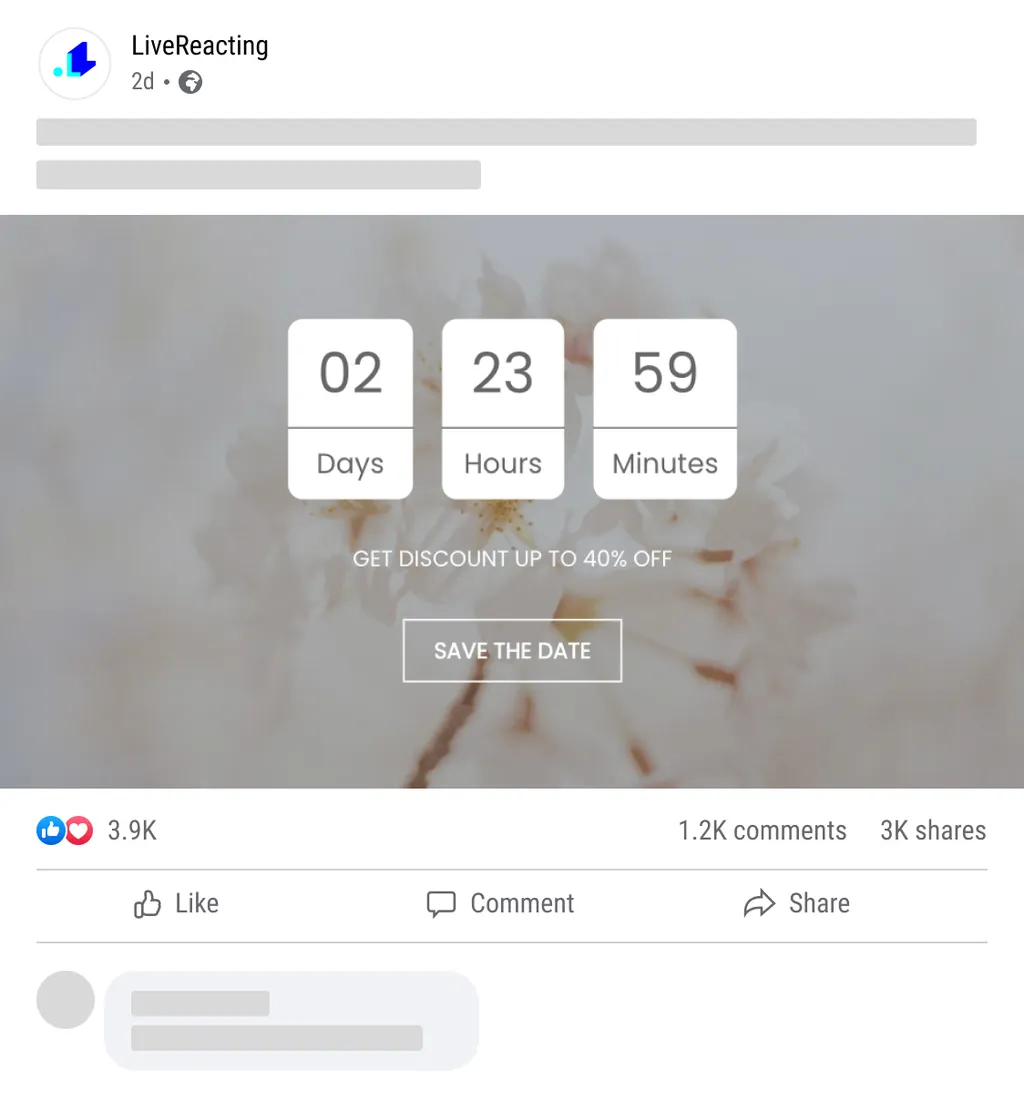 Frequently Asked Questions
If you are unable to locate the information you need, feel free to reach out to us via email with your inquiry.
Can I customize the countdown?
Yes, our application includes an easy-to-use editor that lets you customize your countdowns to fit your brand identity.
Does the countdown image update in real-time?
Yes, our application automatically updates your countdown image in inreval from 5 min to 1 day (you can select that before publishing).
What update interval means?
Update interval is the time between countdown image updates. For example, if you select 5 minutes, your countdown image will be updated every 5 minutes.
Can I update the countdown text/date/colors after publishing?
Yes, you can update all aspects of your countdown after publishing. You can also change the update interval.
Can I publish the countdown directly on my Facebook page?
Yes, our application supports direct publishing to Facebook business pages. You can also share your countdown posts to your Facebook group or personal profile.
Will people see a countdown animation on Facebook?
No, the countdown won't display as an animation. However, the countdown image is updated every few minutes, so each time someone views your post, they will see the relavant time.
Is it possible to do more customizations or custom projects for companies, agencies, or brands?
Absolutely! If you have specific needs or want more customization, just contact us via email with your requirements and we'll be glad to assist you.
Is there a free version? Can I publish a countdown for free?
Yes, we do offer a free version with some limitations. For more details about what's included and the limitations, please visit our pricing page.
Can I use the countdown for Facebook ads creatives?
No, Facebook doesn't allow to use countdowns in ads creatives. However, you can use it in your organic posts. You can pin the countdown post to the top of your page, so it will be the first thing people see when they visit your page.
Create a customized countdown clock and publish it on your Facebook page.
Simple to set up, fully automated.
---